Coming to Boston?
There are lots of great things to do
ON THE WATER!



Let Boston-Boat-Trips.com be your guide to the many water activities you can enjoy while you're in Beantown!
There are dozens of websites that will show you all the different tourist attractions in and around this great city. Many of them are private companies selling only their offerings...while others are BIG national companies that produce "carbon copy" websites for practically every city in America!

I hope you find my website... to be "DIFFERENT!"
My focus is my passion --- boating, in and around the waters of Boston. I'll explain your choices and offer my personal commentary as to what's good...and not so good. &nbsp I hope you ENJOY!!
---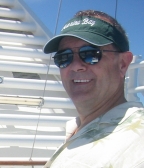 Hi!... I'm Tom Burns, and I've spent most of my life (so far!) enjoying the waters of Massachusetts Bay.

The western border of the bay is Boston Harbor,... pronounced Hah-bah...

... which consists of the outer harbor and the beautiful harbor islands, and the inner harbor which defines much of the cities waterfront.
I have traveled the globe many times over the past 20 years,... and I have delighted in the beauty and diversity of many of the world's best-known cities and waterways!

Victoria Harbor in Hong Kong, Sydney Harbor, Rio de Janeiro, and many, many others --- they are all beautiful!... But I'll tell you what...

Boston Harbor doesn't take a back seat to any of them!


So, WELCOME ABOARD!...and WELCOME, to...
The Cradle of Liberty!

You know,...Massachusetts has always been a mecca for tourism because of it's historical significance. So much of what has become America began right here! But Boston is also a thriving hub of commerce and education. Actually, all this diversity is part of the "secret sauce" that makes her so special!

Whether your visiting America's most historic city on vacation, a business trip, or just coming into town for the day from the suburbs to do some sightseeing, ...take advantage of one of the most beautiful harbors in the world!
So Many Choices ... So Little Time!
To keep things simple, I have categorized all the different cruises as follows:


Harbor Cruises --- These cruises range from 45-minutes to 90-minutes. The shorter trips stay within the inner harbor, while the longer cruises traverse part of the outer harbor as well. A variation is the 90-minute Charles River Cruise which cruises the inner harbor to the Locks and then up the river.


Specialty Cruises --- If you are up for some high-speed thrills on the water you have to check out ... Codzilla! This is also where you will learn more about the famous "Booze Cruise" and other evening entertainment cruises.

And let's not forget the world famous Duck Tours! OK, so technically these are not cruises ... they are tours of Boston in amphibious vehicles. BUT... once you splash into the water! --- you be CRUISIN' baby!!

Then there are some really special cruises... like a 5-hour Lighthouse Cruise, and of course, the Turnaround Cruise of the USS Costitution every 4th of July! OH!, and this year the Tall Ships visit Boston again! It's going to be a great summer on Boston Harbor -- don't miss it!


Lunch &Dinner Cruises --- A great way to break up your day is to have lunch and cruise the harbor at the same time! Or,... maybe a romantic dinner cruise in the evening. Daytime or evening, dining on Boston Harbor is a real treat! You've got some great choices here -- from simplicity to elegance!



There's More To Do Than Just Cruisin'!
An absolute "MUST DO" before you go home is to visit America's, and the U.S. Navy's, oldest commissioned warship --- the USS Constitution.

The spectacular history of this magnificent vessel unfolds before your eyes as you walk the decks and begin to realize why she earned the nickname "OLD IRONSIDES."


The Boston Harbor Islands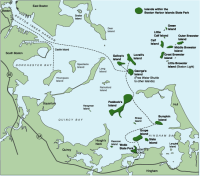 The Harbor Islands are a national treasure. Thousands of people coming to Boston fly over these beautiful drumlins everyday and have no idea they are there!
The history of the islands --- there are 34 of them in the National Park Area --- is fascinating!

Native Americans lived on these islands for thousands of years before the Pilgrims landed!

Facilities on the larger islands have been built and now high-speed ferries shuttle thousands of visitors to the major islands throughout the summertime. Enjoy hiking, swimming, biking, and explore the historic forts of the Civil War era. What a great way to spend a day!
---
Tha're She Blows!!

Maybe you want to spend the better part of a day whale watching. There's nothing quite like seeing these magnificent cetaceans up close!

Stellwagen Bank is the most popular destination on the east coast for seeing humpback, finback, and minke whales.

Gone Fishin'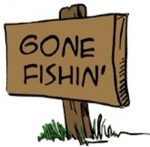 Now, here's a treat!...How about a deep sea fishing trip! From early spring to late fall Massachusetts Bay is giving up a seasonal bounty that will thrill the novice and expert fisherman alike.
Hook up a legal-size Striper (a "KEE-pah") and you'll know very quickly you've got a fight on your hands. An abundance of Cod, Haddock, Halibut, Bluefish, Bluefin Tuna and all the rest are out there waiting for YOU!
---
Hoist up the John B Sail!

OK...so maybe you don't like fishing. How about just kickin' back and riding the sea breezes on a beautiful sailboat!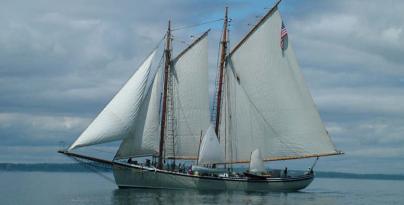 That's right...sail all around the beautiful harbor islands for 3 hours or all day...it's up to you. View the JFK Presidential Library from a very special perspective.

You can charter a private sailboat with a licensed captain, OR... if you prefer, become part of the crew and take the wheel of a 125-foot schooner!

Boston Harbor offers up some of the best sailing imaginable!
---
P-town in 90 Minutes

How about a day in the enigma called Provincetown. The eastern-most tip of Massachusetts and Cape Cod, this artist colony is special in so many ways.

A quaint fishing village years ago, now with a vibrant gay community, P-town welcomes everybody!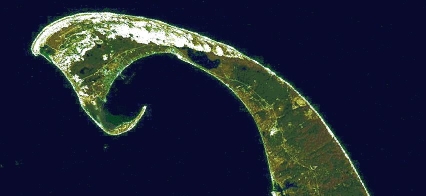 The natural beauty of the sand dunes and beaches, the friendliness of the locals... Provincetown is a unique place and you don't want to miss it!

A great day trip --- or more, you can be there in 90 minutes by high-speed ferry.
---
Don't Forget the Swan Boats!


These simple, but elegant paddle boats are driven by local college students and have been a destination for tourists and Bostonians alike since the 1870s.

A 15-minute Swan Boat ride on the lagoon of America's first public botanical garden... (bet you didn't know that!)... is wonderfully relaxing and a great way to escape the hustle and bustle of the city.

Sit back and enjoy! You've earned it!

---
The Boston Waterfront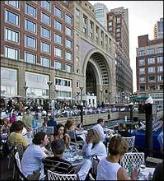 Boston has earned the title...America's Walking City, and rightly so. It's no picnic to drive in, but to walk in... OH YEAH!

And Boston's waterfront is teeming with activity all year long, but it's pure magic in the summertime.

The New England Aquarium is located right in the heart of the waterfront on Central Wharf, and the public's access to the waterfront is expanding dramatically with the development of the new Seaport District.

Most of the cruise boat companies operate out of the various wharfs along the inner harbor and there are a number of wonderful restaurants offering a variety of delicious cuisines.

The waterfront makes for a great beginning and a great ending to your exciting on-the-water adventures!

So let's get started! Just click on a topic from the Table of Contents below or one of navigation tabs on the left side near the top... to get lots more information!



Would you like to share your knowledge about boston? Great, find out how you can submit your story or tip here.