Boston Harbor Cruises to Please Everyone!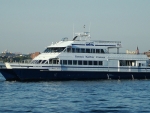 Boston Harbor cruises typically run day and night, between the months of April and November. In this part of the country, from early April to mid-June it can get pretty cool on the harbor...especially if you're going to cruise outer Boston Harbor...AND...if you will be on-deck after sunset!

It could be a beautiful, sunny, 75-degree day in the city...you will be surprised at how much a seabreeze can lower that temperature! September through November can be a bit chilly as well.
But don't let that stop you! ... Just be prepared and bring a sweater or light jacket. I prefer a fleece pullover. It's light, but at the same time deflects the wind nicely.

Most of the Boston tours focus on the Freedom Trail... which is not a bad thing! I'm a big fan of the Freedom Trail and have walked it a number of times. But Boston Harbor cruises add a brilliant new optic to this beautiful city. I hope you make the time to go sightseeing with a new perspective!

I think the easiest way to explore your harbor cruise options is to have some idea of how much time you have, and what is your primary interest?


Here are the Most Popular Cruises by Duration

So, let's look at each of them a little more closely...

Inner Boston Harbor Cruises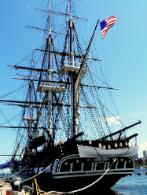 So, maybe you would like to take short cruise in the morning, and be back on land for a liesurely lunch. Or,... maybe you prefer to walk around town in the morning,...stroll down to the Boston Harbor waterfront for lunch, and then take a relaxing trip around the harbor.

No problem, ...we've got you covered!

The largest and oldest harbor cruise company in the city is Boston Harbor Cruises...(what a coincidence!). They began ferrying people back in 1926 and today are the largest private operator of passenger vessels in the country.

Boston Harbor Cruises ...(BHC) offers the USS Constitution Cruise. The cruise itself is only 45-minutes long, and yet it's very informative! But here's the good part,...if you have the time, you can leave your cruise boat and take a tour of this magnificent vessel!

BHC runs the USS Constitution Cruise throughout the day,...so, just show your ticket on one of the later boats returning to Long Wharf! Great Fun!!

OK, so I'm kind of a history geek...and I really do admire this beautiful lady. She's got such a fascinating history!

If you're a bit of a history buff yourself and are interested in more details on Old Ironsides, go here.


For mor details on the USS Constitution Cruise, click HERE.


Return to top of this page


Historic Boston Cruise
Picture this... it's late afternoon on a beautiful day on Boston Harbor and you're completely relaxed on the spacious upper deck of your harbor cruise boat, slicing through the light chop of the inner harbor.
A refreshing cocktail in-hand, you're enjoying the casual twitter with other passengers. Looking to the south you spy what appears to be a jumbo jet floating slowly out of the sky toward you from maybe 5 miles away.
Being keenly aware that the mild breezes are out of the north/northeast, they raise your level of expectation...WHY?...because you are only a few hundred yards from the beginning of runway 4Right at Logan International Airport and all of a sudden you look up!

There's a British Airways 747-400... landing gear down... roaring 150 miles per hour only 100 FEET DIRECTLY OVERHEAD!!... WWWWOOOOWWWWW!!

It's an absolutely amazing experience and this picture doesn't do it justice... Looking up at the under-belly of this behemoth aircraft,... you feel like you can reach up and touch the wheels!

Boy!... we've come a long way since 1776!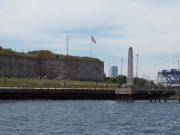 BHC has the Historic Boston Sightseeing Cruise, which begins operating in mid-May and, in my opinion, offers great value. This 90-minute, narrated cruise leaves Long Wharf everyday at 11AM, 1PM, and 3PM.

Traveling west to one end of the inner harbor, you will pass by and here about the Old North Church...ONE IF BY LAND, TWO IF BY SEA!..., Bunker Hill, and of course, Old Ironsides herself.

Heading east toward the outer harbor, past Logan Airport --- keep an eye out for low flying aircraft!! --- you will learn about Castle Island... Boston's first fortification built in 1634.

For mor details on the Historic Boston Sightseeing Cruise, click HERE.


Return to top of this page


Charles River Cruise
Want to go up the river instead? GREAT!... BHC offers a Charles River and Locks Cruise. This is really a great cruise anytime!

When you leave Long Wharf you head west and have to go through the Charles River Locks --- this is always fun! ... After clearing the locks you cruise the beautiful Charles River and see Cambridge and the Back Bay of Boston from a unique perspective.



As you look at all the buildings in the Back Bay, it's difficult to believe it was all SWAMP before 1857!

If you are interested in learning more about the history of Boston neighborhoods and how they evolved, you may be interested in this book: Walking Boston by Robert Todd Felton.

Current as of July, 2008, Felton does a good job of laying out 34 terrific walking tours and explores some of Boston's history without making you feel like your reading War and Peace!

I have followed a number of his Boston tours and I've really enjoyed the healthy sightseeing!

For mor details on the Charles River &Cruise, click HERE.


Return to top of this page


Sunset Sightseeing Cruise
The Sunset Sightseeing Cruise on Boston Harbor is a wonderful way to wind down a busy day. This 90-minute, narrated cruise sails the same course as the daytime Historic Boston Cruise... but you're in for a special treat!

In addition to the historical narrative and the beautiful sunset, you will be able to witness the USS Constitution's sunset serenade as she fires her cannon and lowers her flag signaling the day's end.

It's a beautiful ceremony and a wonderful way to begin an evening in Boston.

For mor details on the Sunset Cruise, click HERE.


Return to top of this page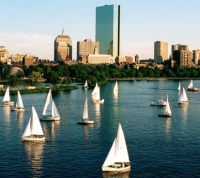 Need a Place to Stay in Boston?
For a great selection of places to stay, with discount prices, visit
Hotels Boston
for more information.